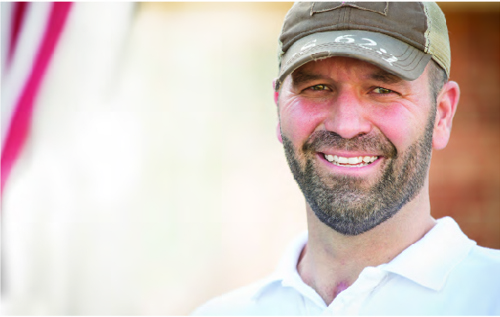 Jason W.
GlobalHealth Member
One summer, Jason dropped 66 pounds and began cycling, running and swimming. In September that year, he entered his first triathlon. Jason was poised to fulfill his dream of one day entering an Iron Man Triathlon. Within weeks, Jason faced perhaps the fight of his life: he has West Nile Virus and needed a ventilator just to breathe. He entered the hospital in October and didn't return home until February.
When asked what kept him going, he responded, "my faith, my family and my inner fight."
Desperate for answers, the family turned to Becky Anderson, GlobalHealth Director, Utilization Management. Becky supported them every step of the way. Jason praised everyone involved in his care, but said GlobalHealth stood out.
"The funny thing was that it was our insurance company making things less stressful because of all the personal support we were given," he said.
Today, Jason is walking. And he keeps his dream alive of one day resuming triathlon competition.  


Cynthia B.
GlobalHealth Member
When I learned I was diagnosed with Ovarian Cancer, the last thing I wanted was to go through it alone. My GlobalHealth case manager was by my side from the very beginning until the end of all my treatments. And I still talk to her weekly! GlobalHealth provided me with the peace of mind knowing that all I need to do is focus on healing.

Ruth O.
GlobalHealth Member
I am blessed to know the sweet people at GlobalHealth. It's like a gift from heaven. I love the whole GlobalHealth team. GlobalHealth is the best insurance I've had in my 8 decades of life, and so are all the sweet workers. I LOVE GLOBALHEALTH!
Brenda R. 
GlobalHealth Member

I recently called GlobalHealth to speak to someone about my behavioral health benefits. I was very pleased with how kind, compassionate and knowledgeable she was in helping me with my benefits. I love how GlobalHealth takes care of and values their members!